A private school in Switzerland, College du Leman
03.10.17
969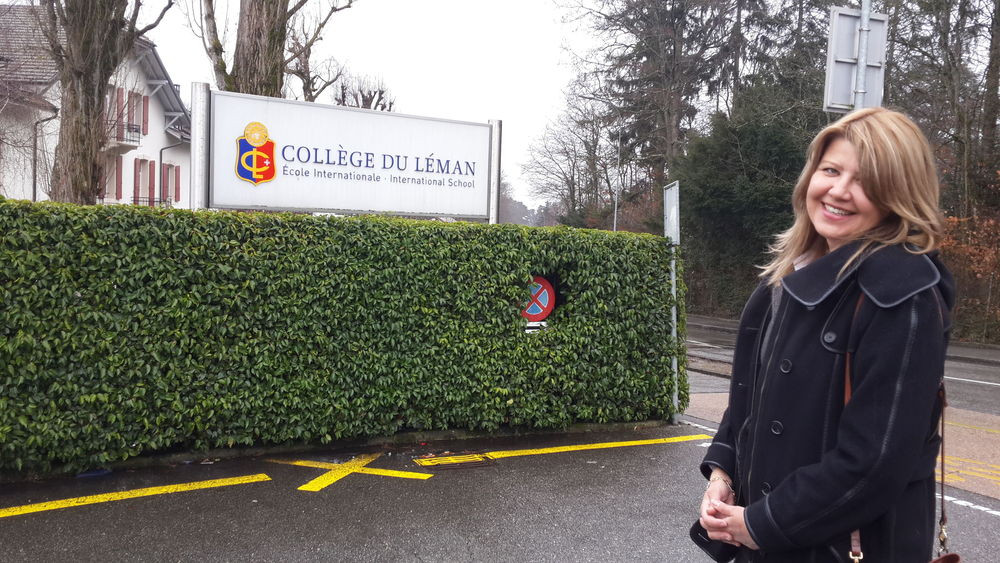 International School of Geneva
I am on the road again, this time I visit private schools in Europe offering international and Anglo-American programs: IB, American High School Diploma (Advanced Placement), A-level. In the morning I have an appointment to visit the international school College du Leman, located on the outskirts of Geneva, which offers training in three systems: Anglo-American, Swiss and French.
Also, this school is very popular for vacation summer programs, since it works all July and August - which is very rare for summer camps based in private schools in Switzerland, it offers the study of English and French, the price of vacation programs is quite affordable for a school of this level and no additional payments - everything is included in the price. Many students, visiting College du Leman in the summer, want to stay for academic studies at this particular school!
The first impression of College du Leman
The school is very favorably located in a residential area on the outskirts of Geneva Versoix. The school is very popular as Geneva is home to many diplomatic families and international companies. Children of foreign families living in Geneva attend school as day students.
This is a large school, although one does not feel it when examining the territory: the school has 2,000 students and the College du Leman campus occupies 8 hectares. If this school was located in the center of England, then with so many students, it would occupy a territory several times larger.
Here, in the center of Switzerland, everything is very compact. All sports grounds and facilities are multifunctional, even outdoor sports grounds are used for several sports at once, just different markings are used: a tennis court divides the area with a basketball, volleyball and badminton field, a fitness room is used for dancing, aerobics, wrestling. The same applies to classrooms: in the same laboratory with an attached classroom, lessons of chemistry, physics, and biology are held.
At the same time, the territory of the school is impressive, everything is very well-groomed, green, very safe - there are cameras and combination locks everywhere. Separate classroom buildings for junior, middle, and high school students, 7 student residences, a sports center, and a nearly completed new arts center.
Programs of College du Leman
Bilingual programs include International Baccalaureate (IB) - the course is taught in English, while some subjects can be studied in French (biology, history and French language and literature), and Swiss Maturity - a French course in which two main subjects (history and geography ) and some additional ones can be studied in English.
Education at the school is very comfortable and the most modern technologies and equipment are used. All classrooms have interactive whiteboards. All children use laptops and iPads in the learning process: there is no longer the need to carry books to lessons, all books can be downloaded to the iPad in the library. All tasks are performed without the use of notebooks, everything is computerized.
By comfort, I mean that if a student is not given a certain subject, he is not told that he does not study well, but is given a feasible task. If you got 3 points out of 6 in this semester, then let's try to raise your point to 4. When you have an opportunity to omit this subject, you will be offered to study those subjects that are better given and more pleasant.
The Anglo-American section
Grade 9 and 10 students study on the IGCSE program. This program is administered by the University of Cambridge International Examinations (CIE). This is the international version of the GCSE exam, which is taken in the UK, with all subjects using a global international context, not just a UK-focused one. According to the results of the IGCSE exams, students can continue their A-level studies in British or international schools, they can also go to the IB program or graduate from the American program.
The American School's program offers 4 groups of subjects (languages, mathematics, science and social sciences) at the advanced AP level. The International Baccalaureate (IB) program is offered, like everywhere, in six groups and can be either purely English-speaking or bilingual - the best option for students who want to continue their studies at public universities in Switzerland.
Overall impression
Excellent school, your child will not only live and study in the most comfortable and safe country, but you will also gain friends and connections for life.
During a visit to the school, I interviewed students in the Anglo-American section.