Spain - a comfortable country to live, study and travel
11.07.18
1010
Spain is my favorite country.
Four seasons a year Spain is the best place for recreation, traveling around the country and outdoor sports, both in the mountains and in the sea.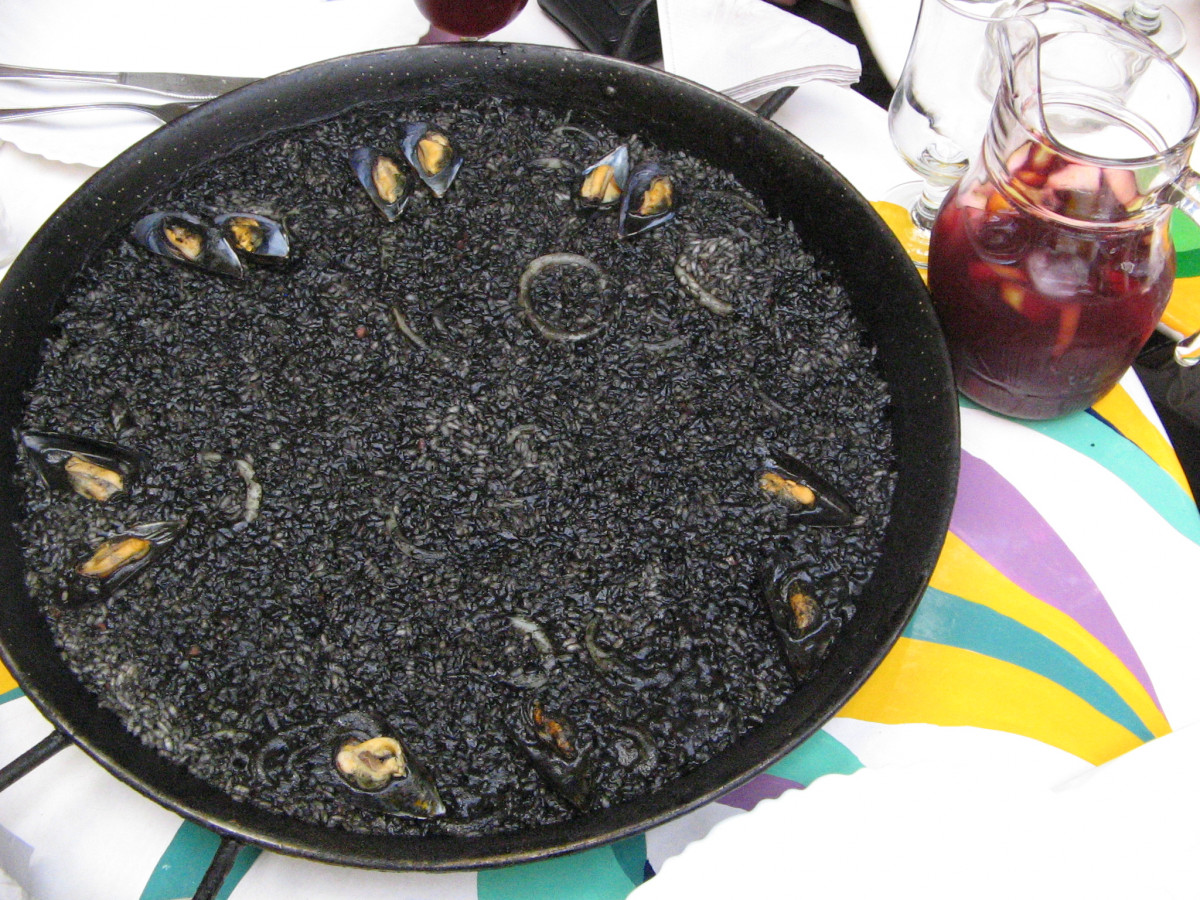 I like the Spanish temperament and the rhythm of life, I like noisy Spanish cityies where the noise level is the highest in Europe and not only from transport but from conversations. I like Spanish, where there are at least and 15 tenses of verbs with different ending in genders and singular or plural, but knowing 100 words you can easily support any conversation. I like Spanish cuisine and wine and only because of them I go back to Spain many times per year.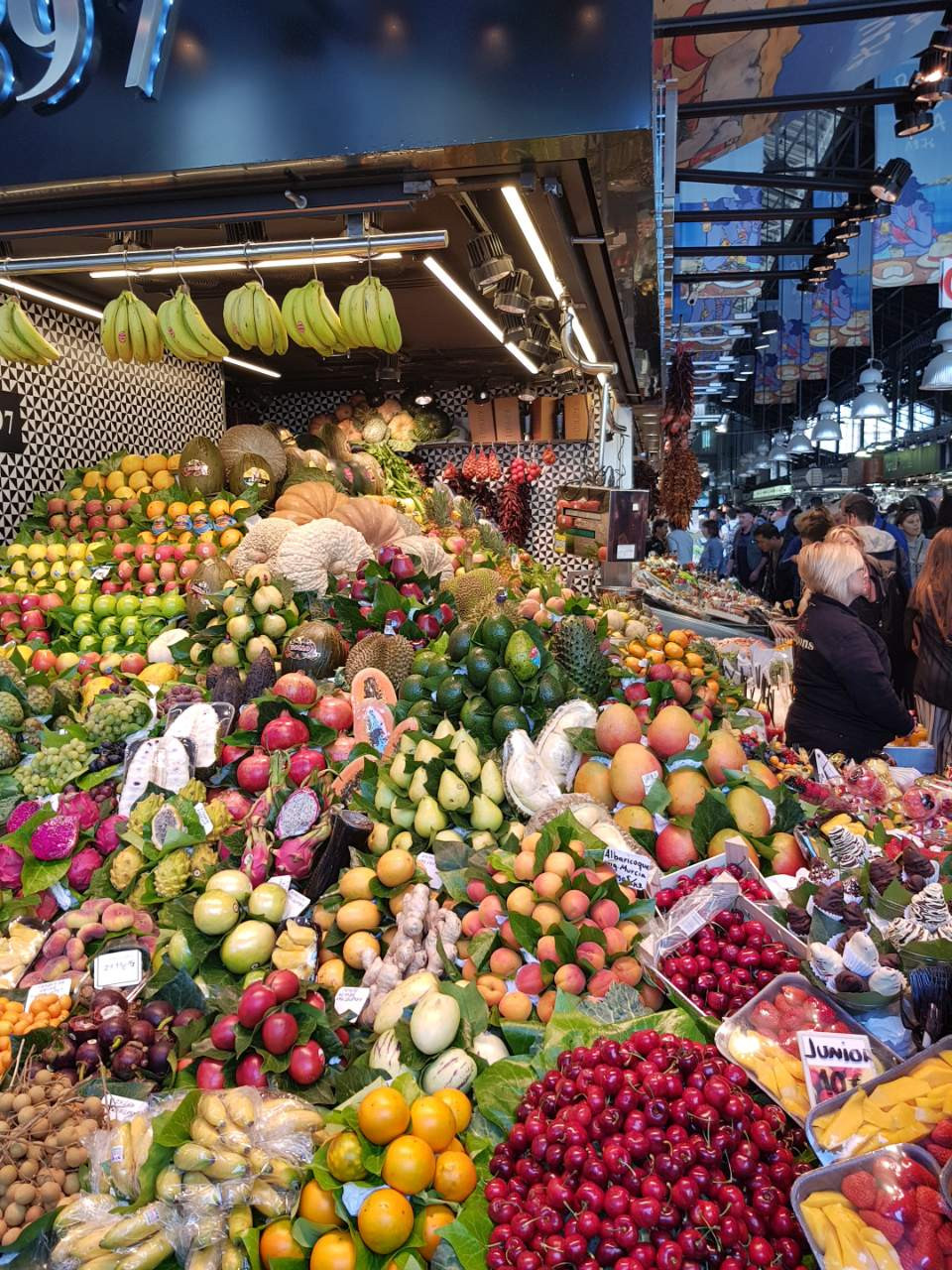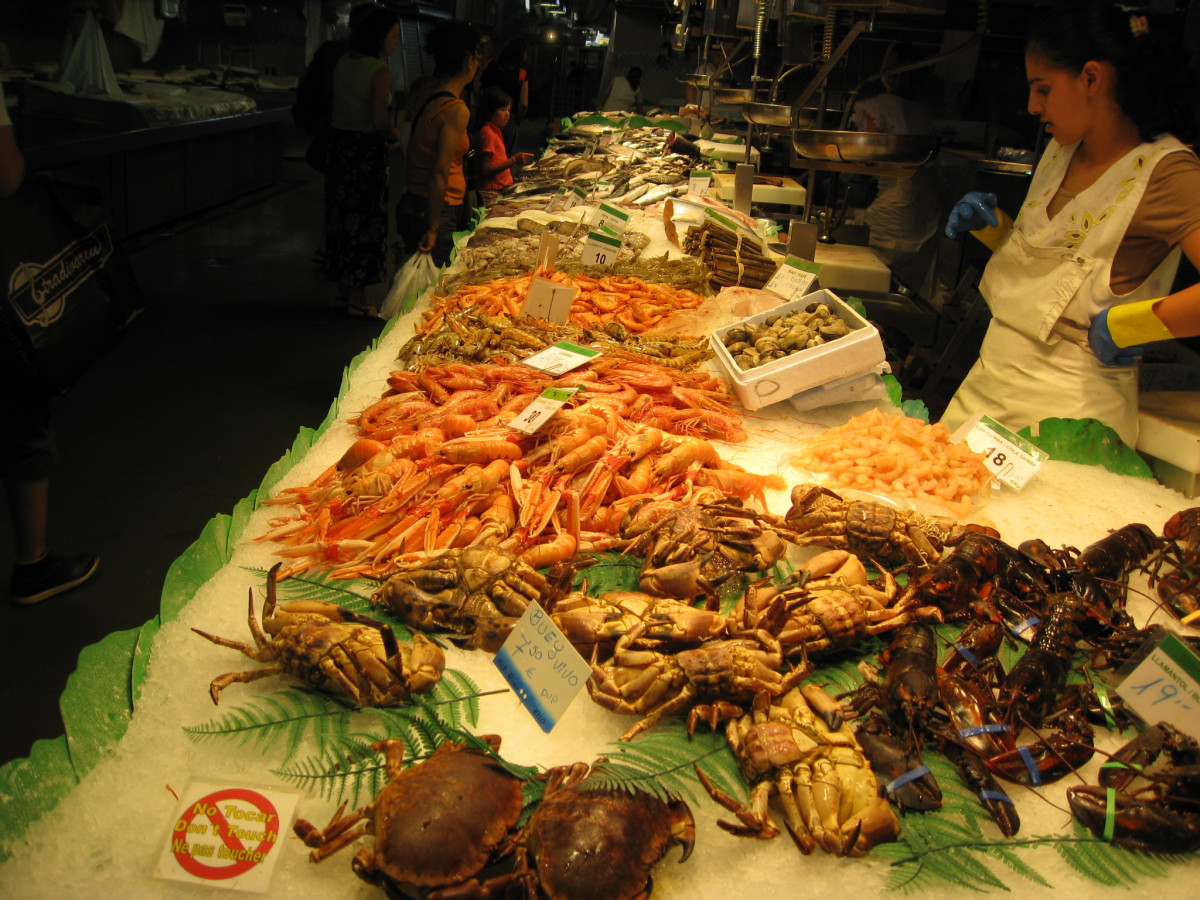 Barcelona and Catalonia
Barcelona and Catalonia in whole are one of the most visited regions of Spain that is not only with the popularity of the region with accessible year-round flights from many cities of Ukraine or Russia and it is closer to fly here than to the rest of Spanish airports. From Barcelona, you can easily reach any other region of Spain by high-speed trains that go directly from the airport, although for many cities you would need a connection in Barcelona. Many times I have been in Barcelona, either studying Spanish or going as a tourist to the Northern coast of Catalonia Costa Brava, where there are many charming resorts, or on the way to Andorra, where my friends and I love to ski.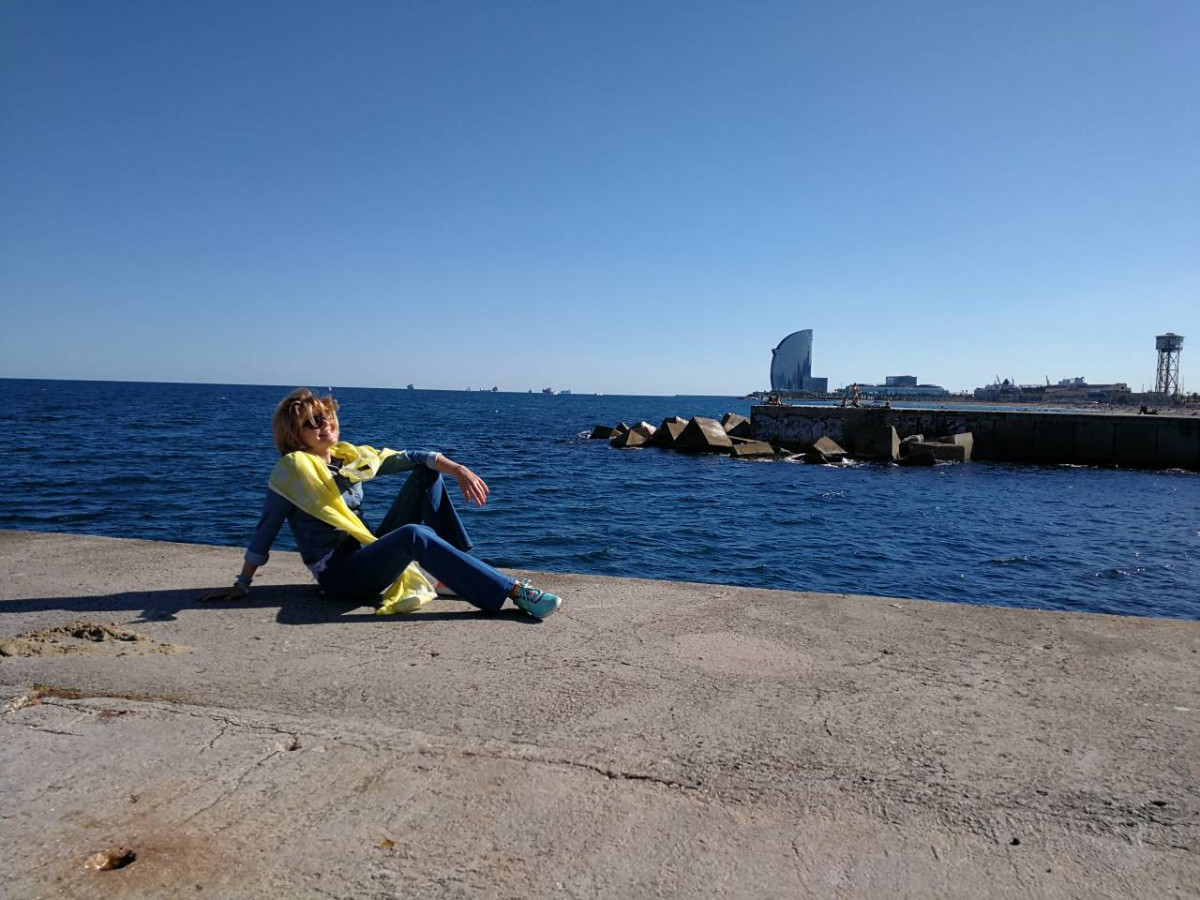 To tell the truth, Barcelona was more interesting to me 5-10 years ago, maybe I wasn't spoiled by traveling and did not notice the crowds of tourists, whom there are more in the city than locals, or before there were really less of them. But now I don't go to Barcelona from May to end of September to avoid the congestion of tourists on the beach promenade or at La Rambla.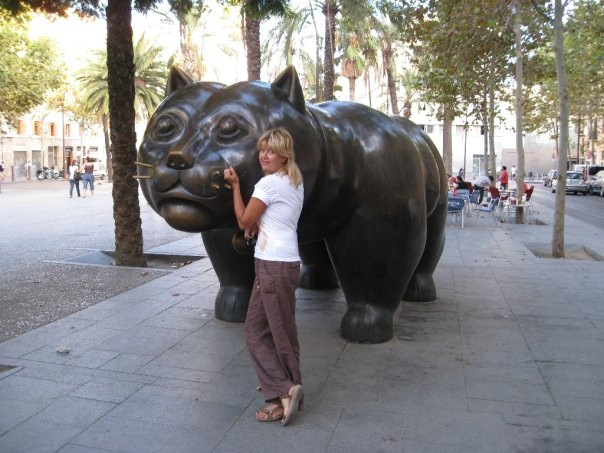 But still, Barcelona is charming. I like to come here as a student of a language school and live for a couple of weeks, mingling with the locals, dining fresh seafood dishes in restaurants or at markets, walking along the paved promenade, which is hundreds of kilometers along the wide, sandy beaches from the South of Catalonia to the Costa Brava.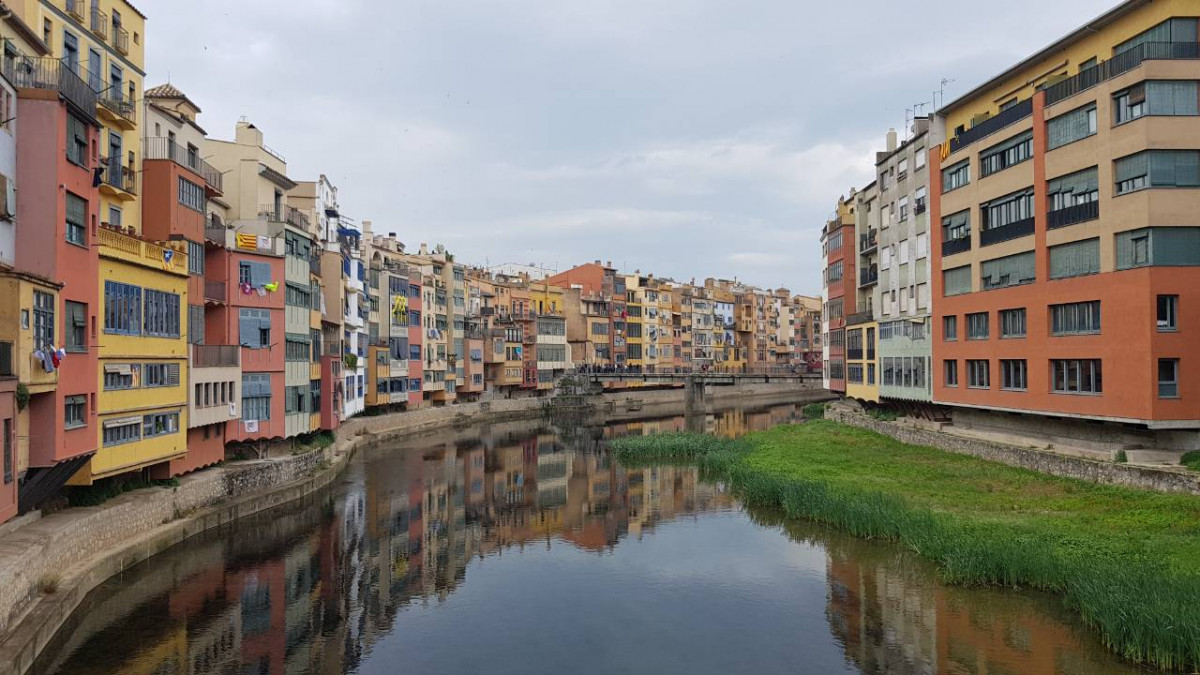 Being in Barcelona, I would always visit one of the gems of Catalonia which are the Park of Güell in Barcelona or the Dali Museum in Figaros or Monastery on the mountain of Montserrat, or drive the car to a cozy Lloret de Mar, or go walking the streets of ancient Girona.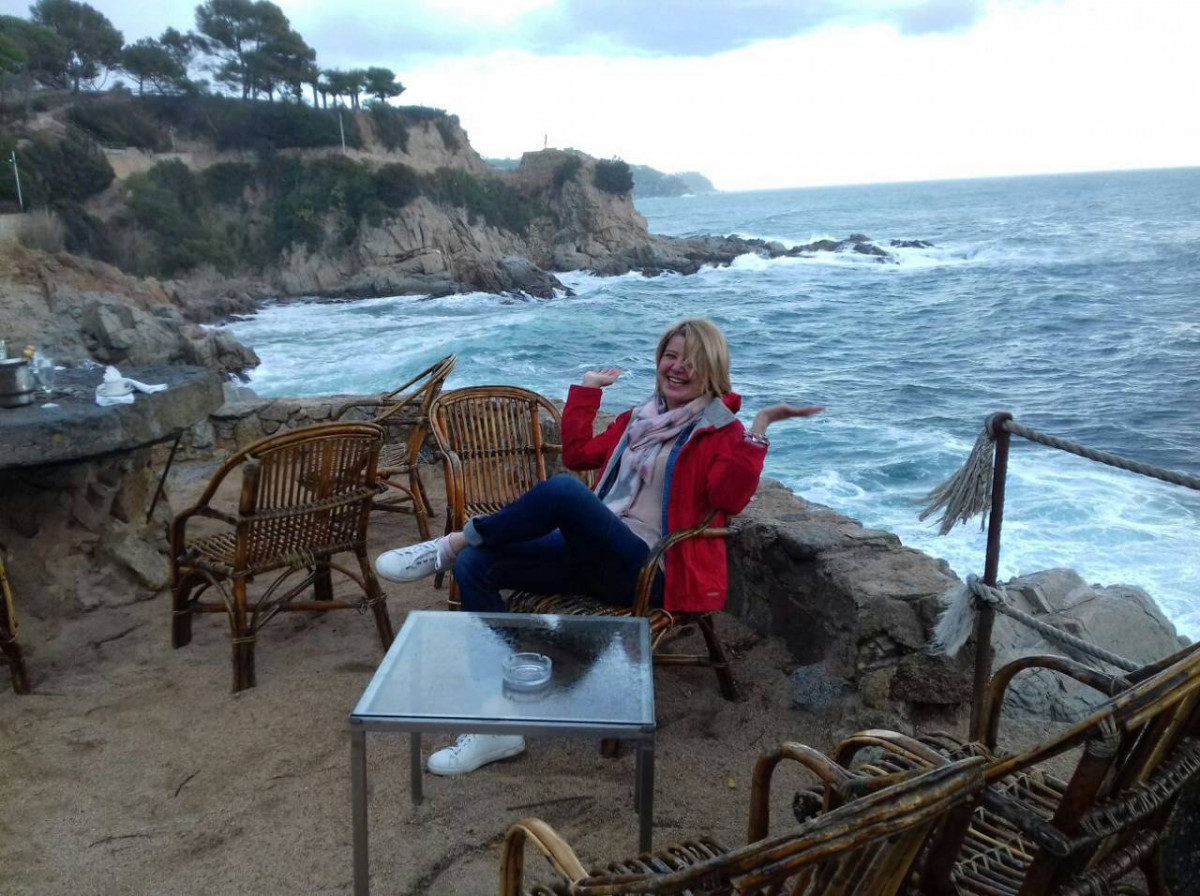 There are many language schools In Barcelona where they teach classical Castilian. In addition, if you book accommodation in a host family, you will hear the Catalan language but your family will speak only classic Spanish.
Due to the fact that Catalonia is one of the most popular areas to purchase holiday homes among our nationals, there is a demand for the education of children in secondary schools along the Catalan coast. Most families ask for the school n Barcelona and the surrounding and especially with boarding facilities where the children can stay the whole year, while parents work in their own country, and when they have the opportunity to visit their summer house they want their children to stay with them for the weekend. Unfortunately, there are still very few international schools with boarding-houses in this region, and those that are much more expensive than similar schools in other regions of Spain. Therefore, I would definitely advise parents to consider schools around Madrid or Valencia, knowing that if you move to a permanent residence in Barcelona you will always be able to transfer the child to a nearby day school, which is in Catalonia a lot. Well actually, there is no enough demand in Catalonia for the opening of international boarding schools. Only children, whose parents live and work in the region, chose international schools to study and study here as day students, living at home with their parents. Otherwise, placement the child in the school in Catalonia will cost about the same as at the boarding schools in Great Britain.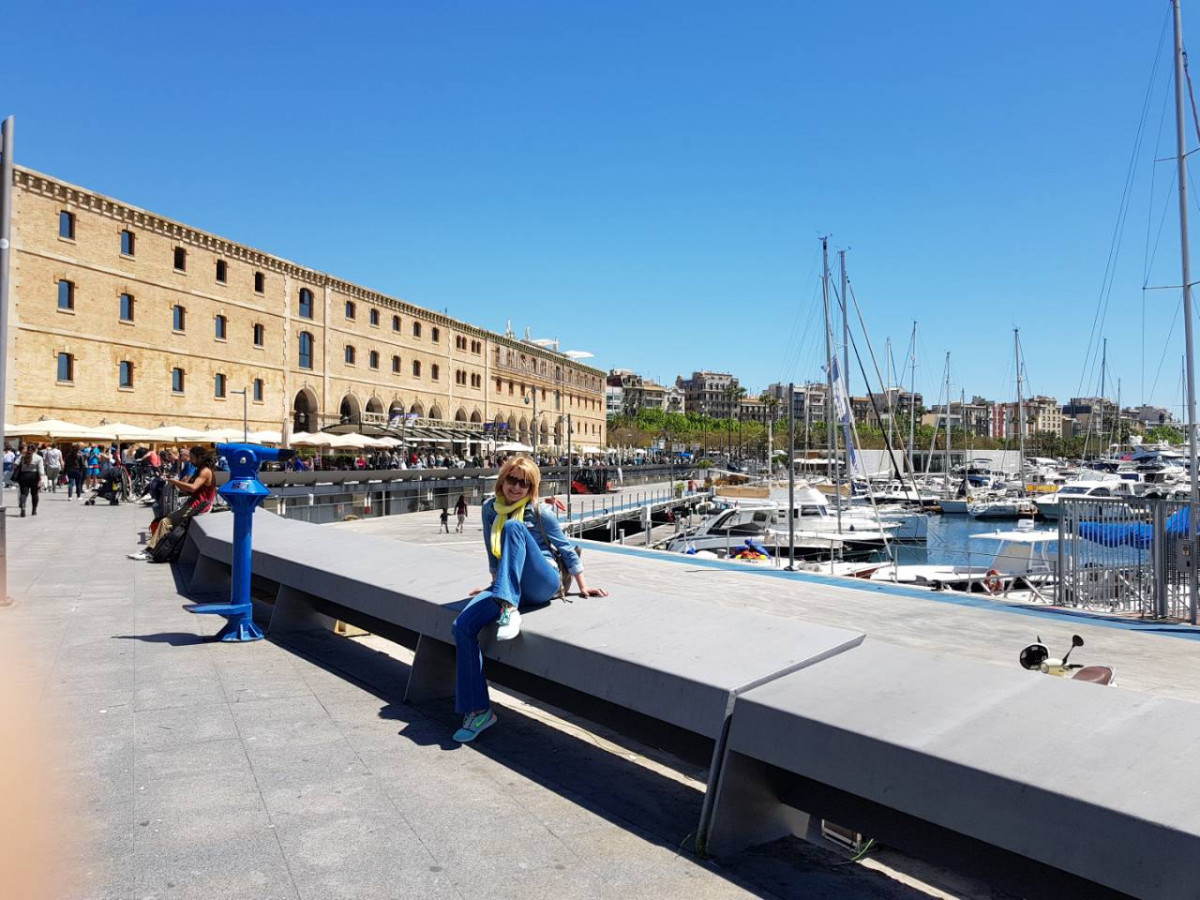 Why I like Valencia
After spending more time in Spain than in any other country around the world I realize that one day I want to move here. That is why I travel around the country visiting new regions and looking for the place most comfortable for my lifestyle. So far, I am most attracted to Valencia.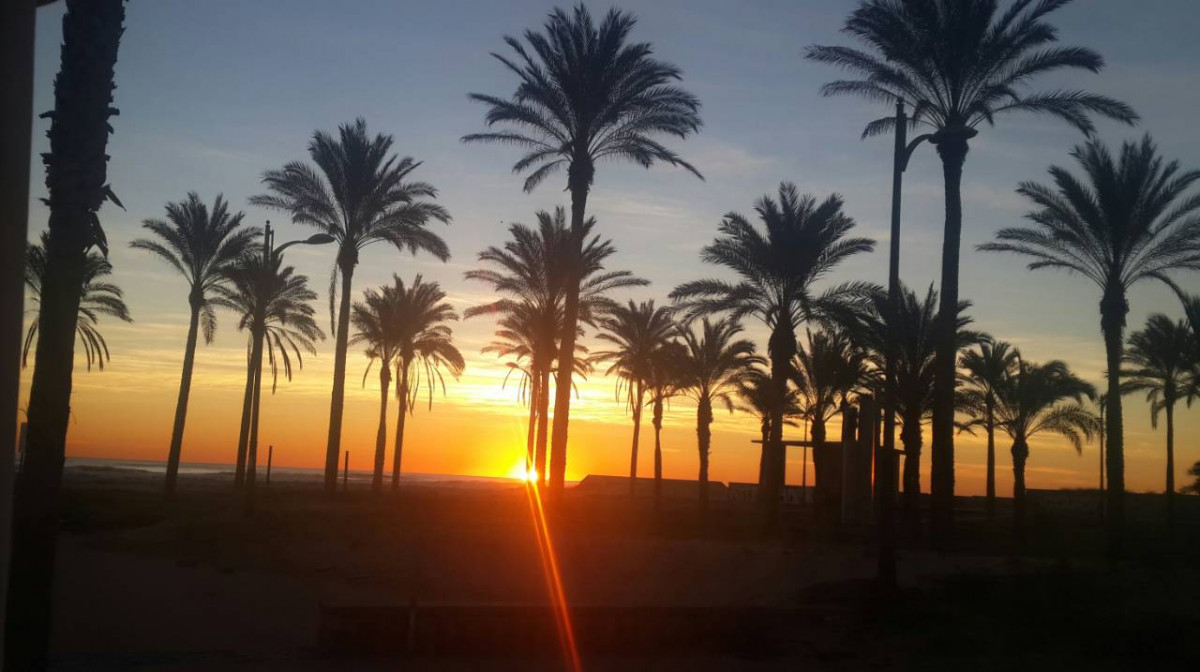 Valencia, which is the third-largest city in Spain, can offer everything for a comfortable life. Here the architecture of the old city with narrow medieval streets blends with broad, tree-lined boulevards and modern buildings along the seaside promenade. Across the city runs a wide and shady Park of Rio with its ultra-modern musical theater, museum, aquarium, and disco.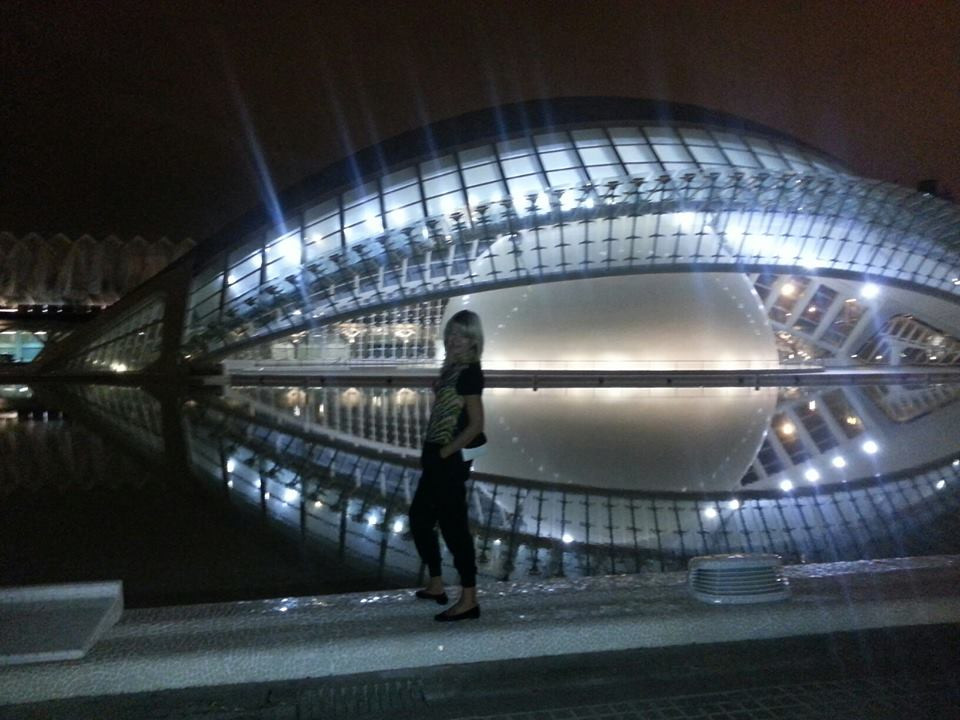 A couple of years ago we spent winter in Valencia, having moved here with our two dogs by car all the way from Kyiv in late November. In the beginning, we thought that we would be more comfortable in the suburbs and rented a house with a garden and an outdoor pool 7 km from Valencia and 20 km from the seafront. The house was in a small village, surrounded by pine forests, near the Golf club. After a few days, we realized that we are not ready to play Golf much. It was quite difficult to walk dogs through the woods as under the pines bushes of rosemary, which was growing here wild, covered the ground. The pool was cold in November, despite the fact that the daytime temperature reached 30 degrees. With the lack of city life, we soon became bored.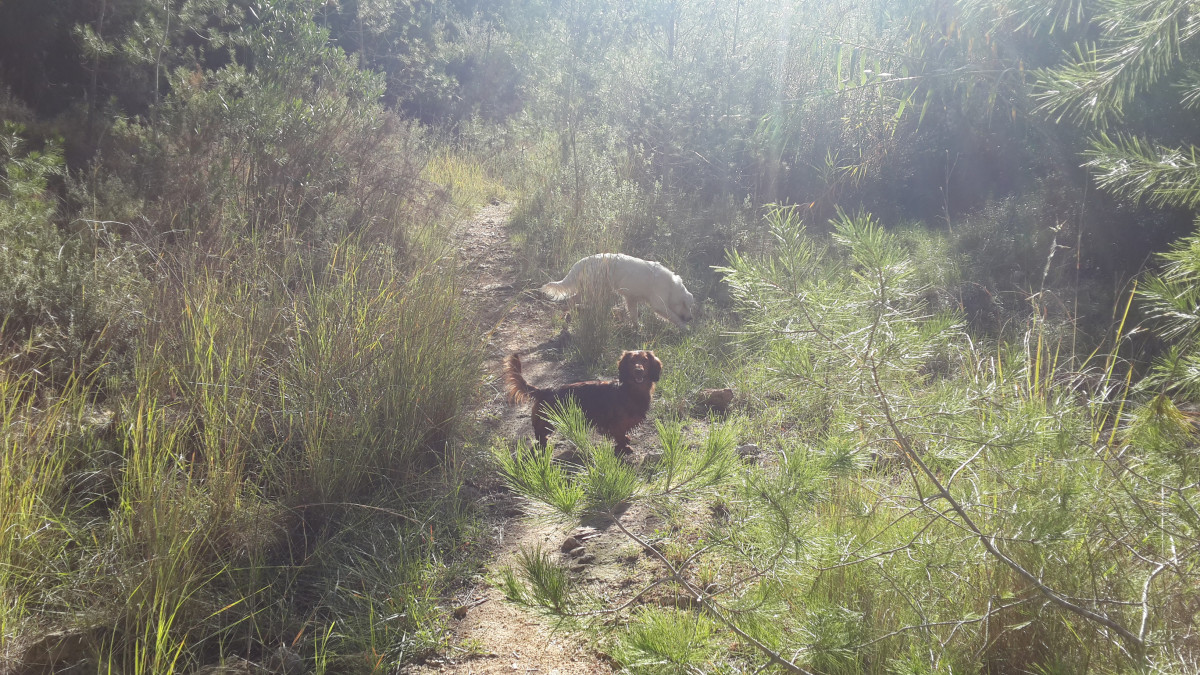 Our next accommodation in Valencia became a temporary small apartment in the city center, where we allowed to stay with dogs. The area was one of the most popular in Valencia – the charming Carmen district. Quiet and sleepy during the day, in the evening the area was turning to the most popular center of nightlife. Tourists and residents were filling the tables of restaurants, bars and cafes put along the roads, and the buzz continued far over the middle of the night. We had little interest in the nightlife in a foreign country, the neighborhood with nosy restaurants was not convenient for the quiet life we wanted, and the parks were far away to walk the dogs every day.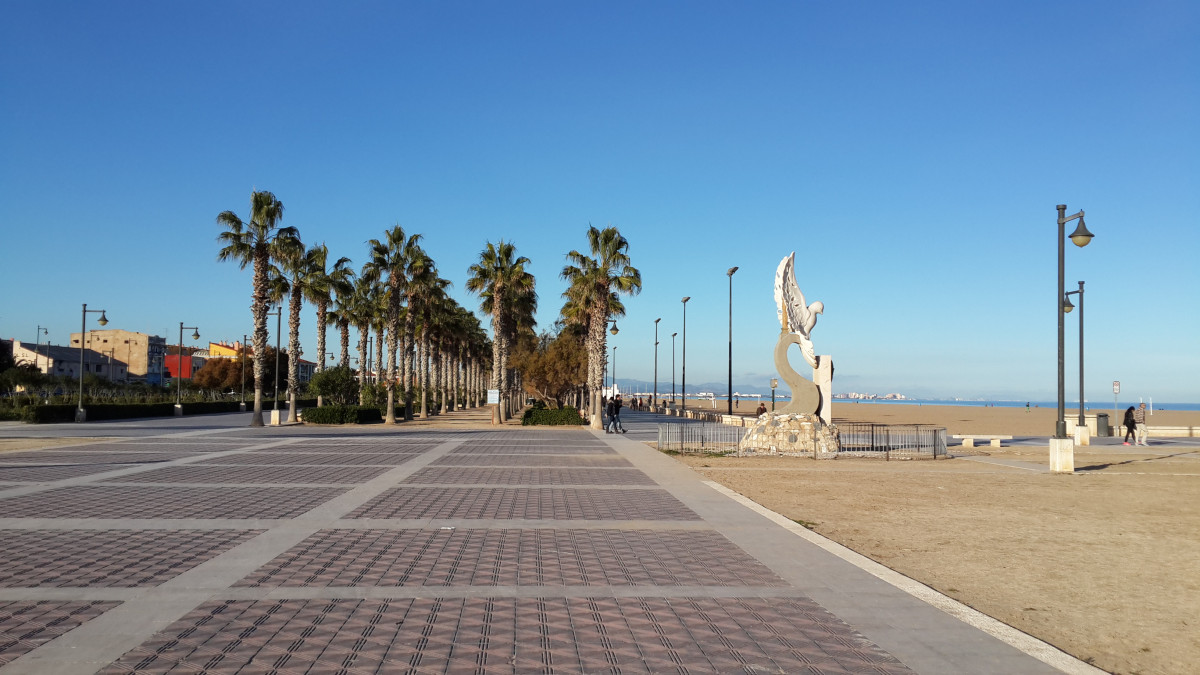 We have chosen priority areas in Valencia where we knew now we would feel happy and began to look for an apartment for a longer period. We were lucky enough to rent a bright and spacious apartment near the beach in Malvarossa - the North area of the city with the easiest access to wide sandy beaches and spent wonderful three months there. As it was winter we could walk dogs on the beach, playing for hours with them, letting them swim in the sea where they learned to overcome waves. If the daytime temperature was above 20 degrees we could go to the water ourselves, which sounds strange for the winter, but it felt good.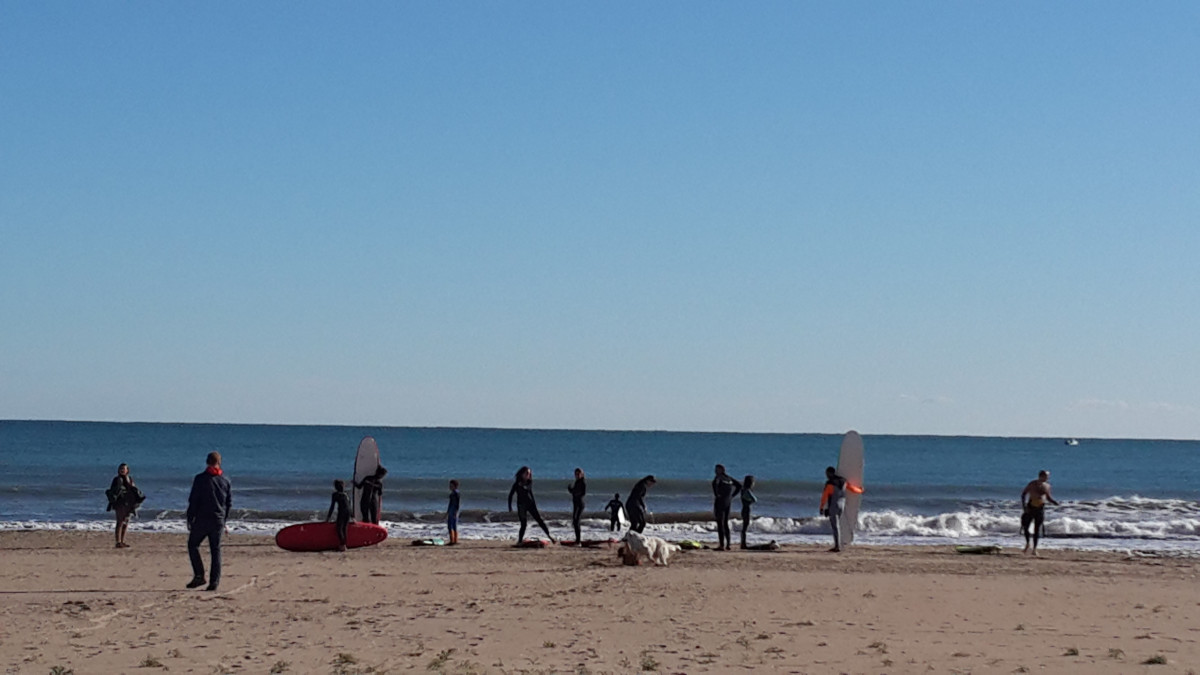 We had Breakfast in the best bakery in Valencia "La Mas Bonita" located on the beach in a 10-minute walk from our house and watched groups of children surfers who came here accompanied by their parents. I was struck by how much time Spanish parents devote to their children, accompanying them after working day to all classes despite the fact that the children always had enough coaches. One morning I saw a group of women riding horses along the beach. They walked their horses slowly along the beach passionately chatting, then were letting the horses trot and gallop, then stopping them at sea. After that morning I often saw these women on the beach. Their horses were very beautiful – not very high, with severe forms, groomed and glowing with health. It was then that I decided for myself that on return to Kyiv would find the time and learn horseback riding to return to Valencia one day and ride in the winter on the beach with these self-confident women.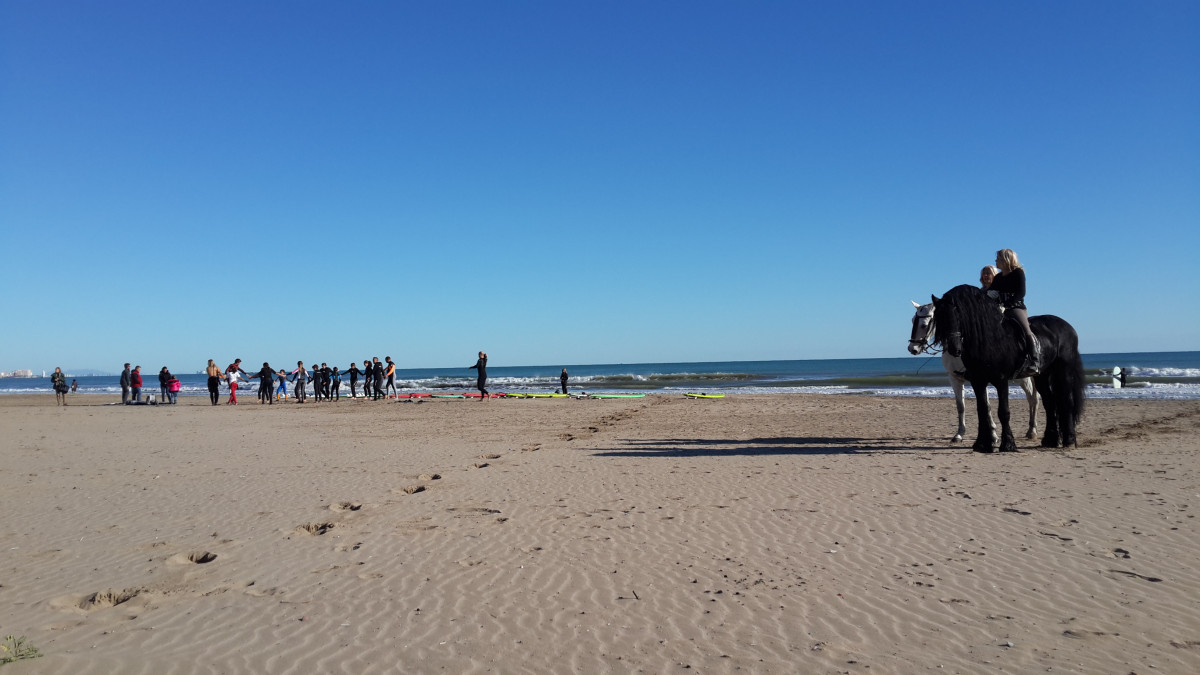 In Valencia, I visited all language schools and studied Spanish in two of them. One of them - Taronja language school -had a high-quality education and activity program. Even in winter when the school had fewer students some activities were offered every day after classes.
Despite the fact that the Malvarrosa offered everything for a comfortable life (the beach, restaurants, market, pool, and sports club, we still went to the city center almost every day. The center can be reached in 25-30 minutes either by metro or by bus, or by car, which we took from Kyiv, or, what we liked the most, by renting a bike at the nearest city-bike station, which was located at each stop of public transport. It was easy to rent a city bike in Valencia, for that you may not even be a resident, as in other cities around Europe. To do this, one just needs to buy a travel card for 10 trips, which is in Valencia with name and photo and, using it as an ID, register on the city bike website, tying your Bankcard and continue to use bicycles on the same terms as residents. You can use the bike for free for not more than 30 minutes, then just need to change a bike at any station so using the same bike does not exceed 30 minutes, and then you don't pay. If exceeded, the amount takes from the card is very small anyway. In winter, when the day temperature ranges from 10 to 25 degrees, traveling on paved bike lanes was very comfortable, especially because you could leave or take bike everywhere (there were bike stations near shopping centers, markets, along the beach or Park Rio, at each stop of public transport).
Valencia turned out to be the cheapest of all the cities of Spain at the cost of food. The same king prawns, which in Barcelona cost 18 euros per kilo at the supermarket in Valencia was worth only 6! Breakfast at any cafe on the street of Valencia cost only 2 euros and included a glass of orange juice, coffee, and croissant or tostada with tomato and Jamon. In Valencia, I used to have breakfast out, to buy a wide variety of vegetables and fruits (juicy mango, oranges, asparagus, aromatic tomatoes, crisp lettuce, and always ready to eat avocados), which are available in markets every day of the year or the freshest seafood. With such products, it was easy and quick to prepare dinners, which we always washed down with good Spanish wine.
Of the secondary schools around Valencia, I visited Caxton College – a British day school that had the amazing infrastructure and tuition fees. Just one has to remember it's a day school which arranges accommodation for international students with Spanish families in Valencia and the surrounding area, collecting students to school by school buses every day.

We also visited Alicante and Benidorm, surprised with the number of Russians living there, because even signs of businesses everywhere were in Russian. Near to Alicante Hills is a small private school Lady Elizabeth, which initially worked as a day school but in recent years had opened several small residences.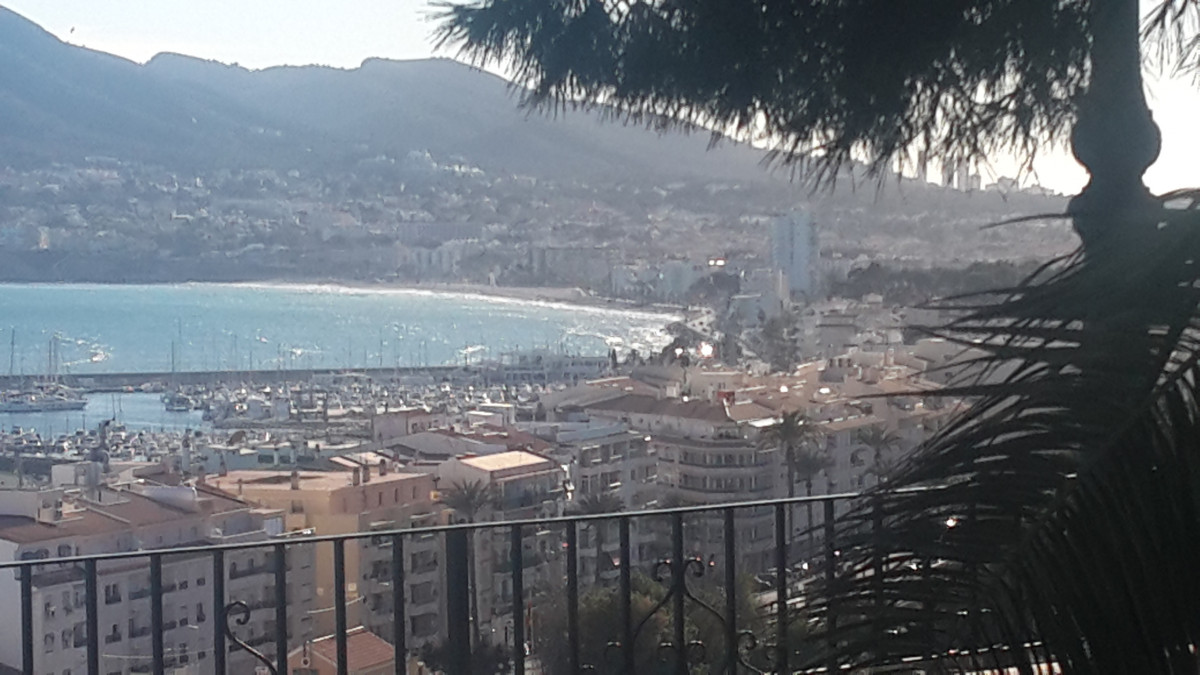 I want to note that this region is very attractive: a great climate, relatively cheap prices, the abundance of high-quality products, fewer tourists and great schools.
Andalusia
I was in Andalusia only once, went there as a member of the tour for educational agents, organized by the language schools of the region. We have been in the region for about a week, staying in Seville, Granada, Malaga, and Nerja for 1-2 days. The language schools who organized the trip not only showed us their schools and places of accommodation for students. In each city, entertainments were planned and visits to best restaurants specializing in local cuisine. In Granada, we walked through the gardens set on terraces, watched the Royal chapel, which was the mausoleum of Spanish kings, ate delicious beef steak.
In Seville, we visited Royal Cathedral and flamenco show and it was the most elaborate presentation of flamenco which I had ever seen in Spain.
In Malaga, we had lunch at a restaurant on the beach, and despite the belief that the beach restaurants just for tourists and don't serve the tasty meal, we enjoyed the wide variety of seafood, which could fit at one big table of agents.
In Nerja, we walked through the streets of residential areas and saw real Andalusian architecture. Here every house was a reflection of what we imagine of Spain. Hot street (more than 30 degrees in the morning in early April), curtained with white canvas on top of the closed wooden shutters of the windows to protect homes from the sun, decorated with colorful ceramic tiles of Andalusian houses with blue doors. Most of what I remembered from the visit to Andalusia was the hot climate, delicious food, and happy people. Probably the sun which is shining here 325 days a year gets to people and it seems that they also produce light, warmth, and happiness.

Andalusia is a good option for long-term study of the Spanish language, as it is warm all year round, nearness to the sea and the mountains of Sierra Nevada. In all major cities of Andalusia, there are very good language schools that work and offer all levels of Spanish in groups year-round. In Andalusia Castilian with some light Andalusian slang.
Not far from Gibraltar and Malaga there is a very good and large boarding school Sotogrande International School offering a full IB cycle and collaborate with professional sports Academies that specialized in Golf, Soccer, and Tennis.
Balearic Islands
The beaches of Menorca
My best holiday abroad is to live like a local, fully integrated into society - to buy groceries at local stores and markets, to have breakfasts at the popular local cafes, explore the area by car, public transport or city bike, to visit local fiestas, to discover the surroundings and enjoy places that little visited by tourists, to join the sports studio and actively practice seasonal sports. Normally, all turns out, if you come to a country to learn a foreign language for a long time and stay with a host family or rent an apartment with friends who have similar interests. Two weeks in Menorca, where I visited my Kyiv friend Dasha who had just completed the renovation of her house in Mahon (the capital of one of the smaller Balearic Islands Menorca), was the delicious rest that I just needed at the moment.

We arrived in late June at the newly renovated building, where the basic furniture was placed and the builders just cleaned after repairing the house. We flew from Kyiv together early Sunday morning, and I knew that my holiday won't be our only lazy recreation, but, in the beginning, a lot of work. But it was exactly the activities I needed that helped me to disconnect from work and business and get into a state of the holiday. As Daria's car needed a service after a long winter of not being used, and on Sunday, when we arrived everything was closed, we spent the whole day wiping the dust from the boxes, which later were unpacked and things placed in order. Towards evening the house got settled, we had dinner at the only open Sunday restaurant at the waterfront. On Monday morning I started to go to the Spanish school to give my friend time to finish all the small things in the house. After the lessons, Dasha picked me up and we went to choose the rest of the kitchen equipment and curtains, visited the fish and vegetable markets of Mahon, and in the evenings when the heat subsides, Dasha was showing me her favorite beaches around the island. I was very grateful to my friend, that she gave me the opportunity to participate in her domestic affairs and to feel the locals on a small island.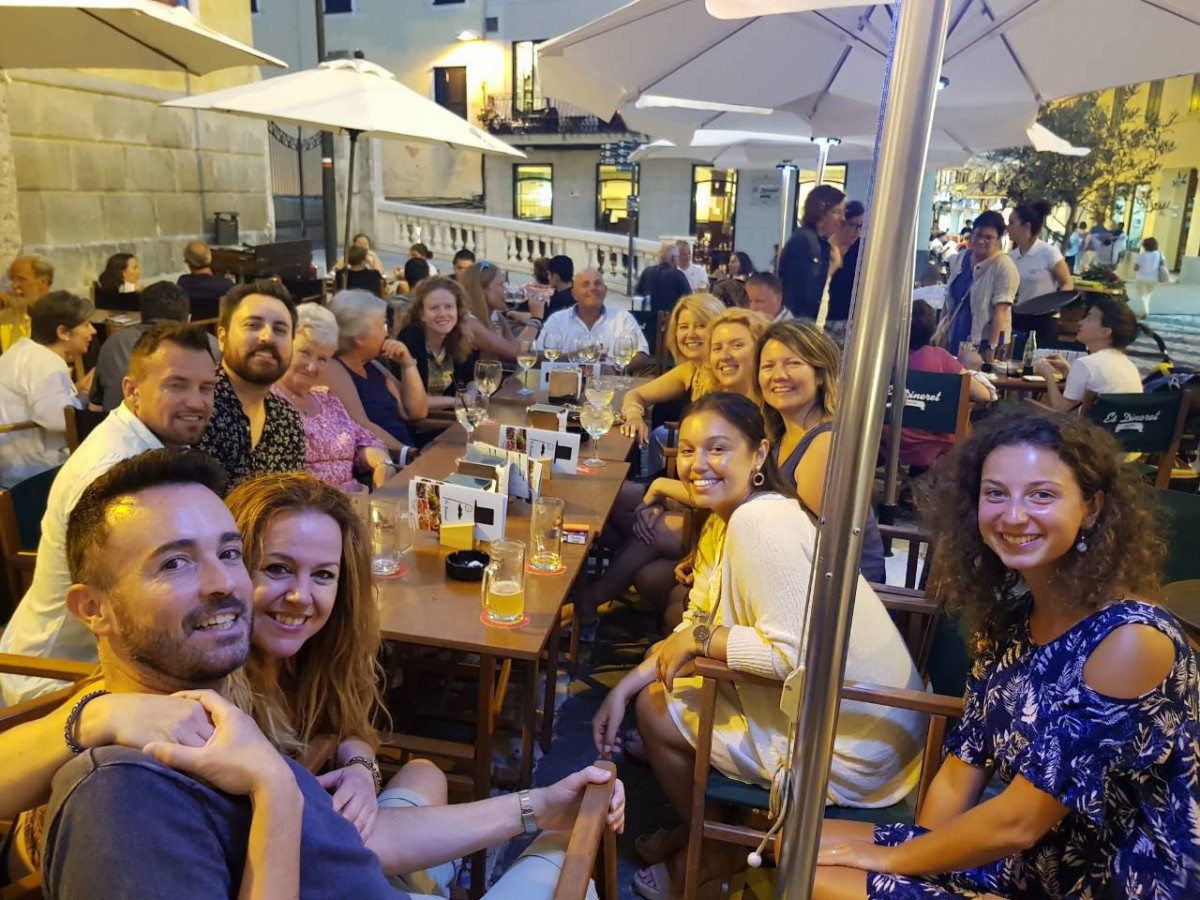 In 2 weeks I visited more than a dozen uncivilized beaches where tourists don't go just because of the complexity of reaching them. Arriving at the parking of some crowded beaches with bars, shops, and sunbeds with umbrellas, we went much further following a little path to the wild beaches, protected from the scorching sun with hats, SPF 50, and having loaded ourselves with drinking water and umbrellas. If Dasha was busy she would choose interesting beaches where I could get on the bus, which was always on schedule and the bus station was a three-minute walk from the house.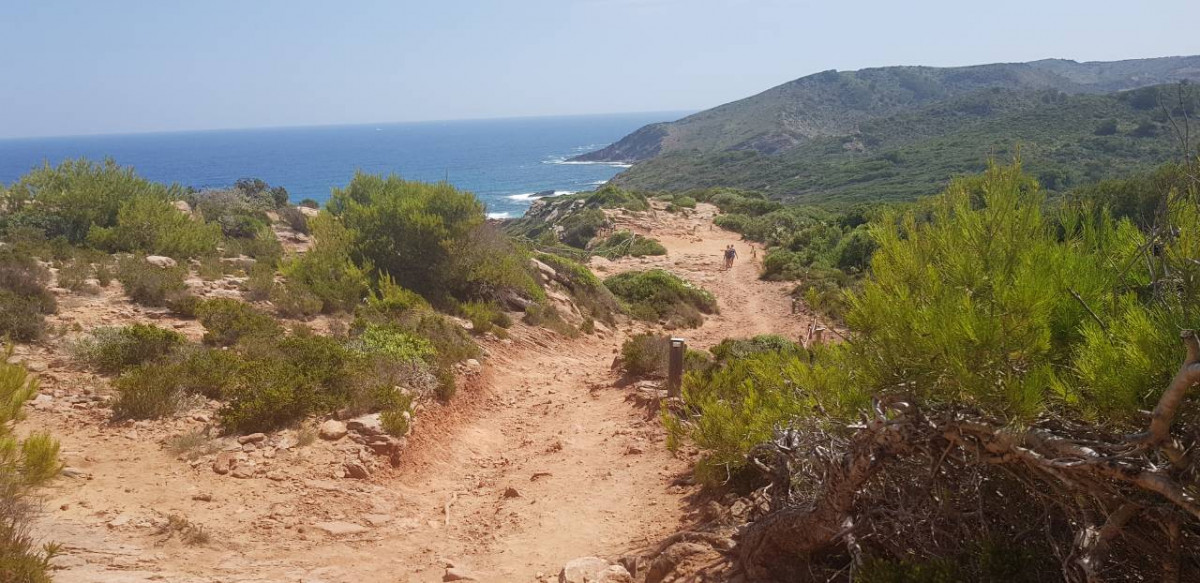 Each beach was special and unique, each was fascinating and I made notes that I have to go back to each of them but two weeks is so little time to see the island, the length of which is 140 kilometers, including the cities and towns, but still not enough time to return somewhere.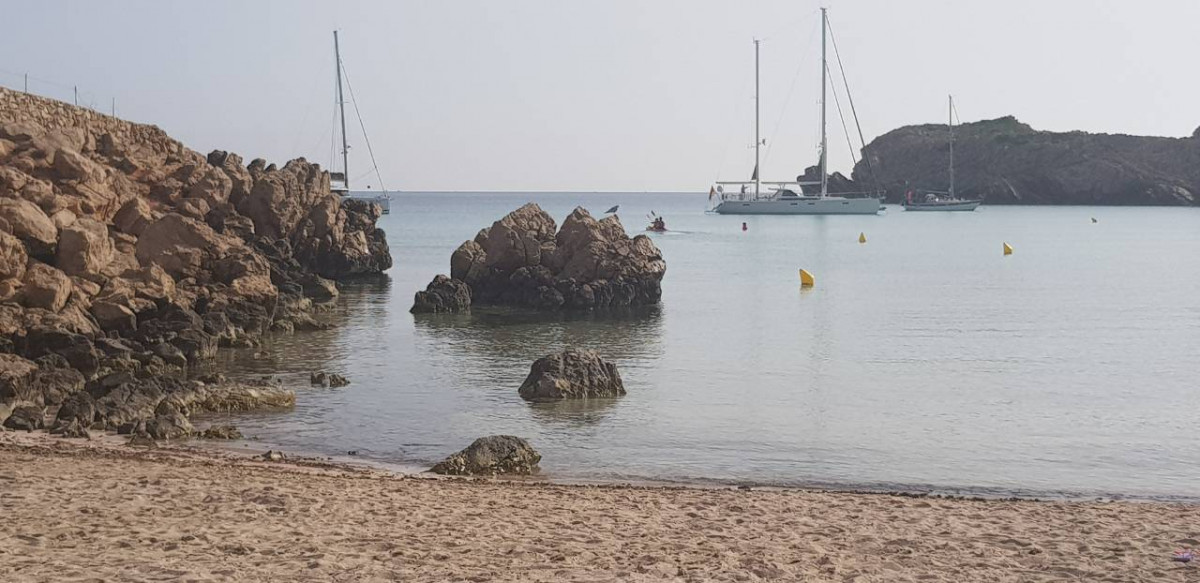 Thank you, the beaches of Menorca for nature, warmth, hospitality, and for giving me back my long lost love of the beach holidays.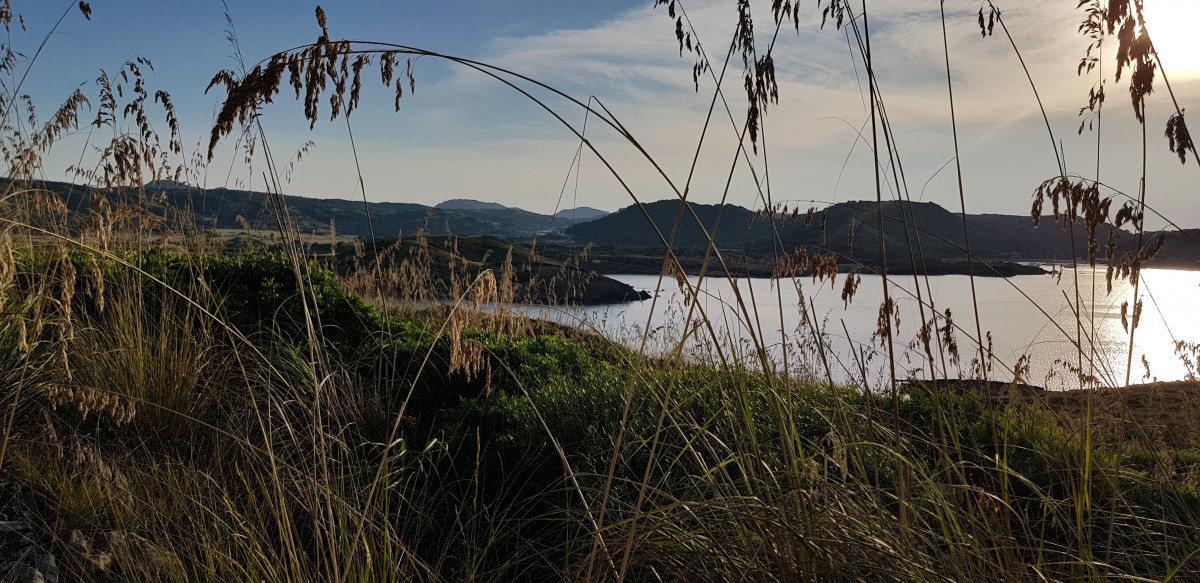 Mallorca
Mallorca is the largest of the Balearic Islands and the most visited by tourists. Being for 2 weeks in Menorca I realized that this was the best opportunity to visit the popular neighboring island of Mallorca, where you can fly easy or take the ferry from another Minorca's town Ciutadella, with is one hour to the Northern Mallorca's town Alcudia, the popular resort for active sea sports lovers. The Western beaches of Alcudia are known for good wind which is used for all sailing sports.
There I haven't seen beach tourists, instead, the sea was cut by kiters and windsurfers. Unlike Menorca, where the locals ride old small cars, and the tourists only come for a day to Mahon or Ciutadella by large cruise liners, in Alcudia I saw many big new cars with German, Dutch, and British number plates which were brought by tourists who came here for long holidays and needed a car. Also in Alcudia, as well as in other parts of the island, many foreigners park their yachts, which they use just1-2 times a year when coming down here on holiday.
Alcudia – famous center for sailing sports, because of the constantly blowing winds. Here all year round come lovers of Windsurfing, kite-surfing, and paragliding to enjoy their favorite hobby every day. That is why Alcudia is a quieter resort with mostly tourist class hotels.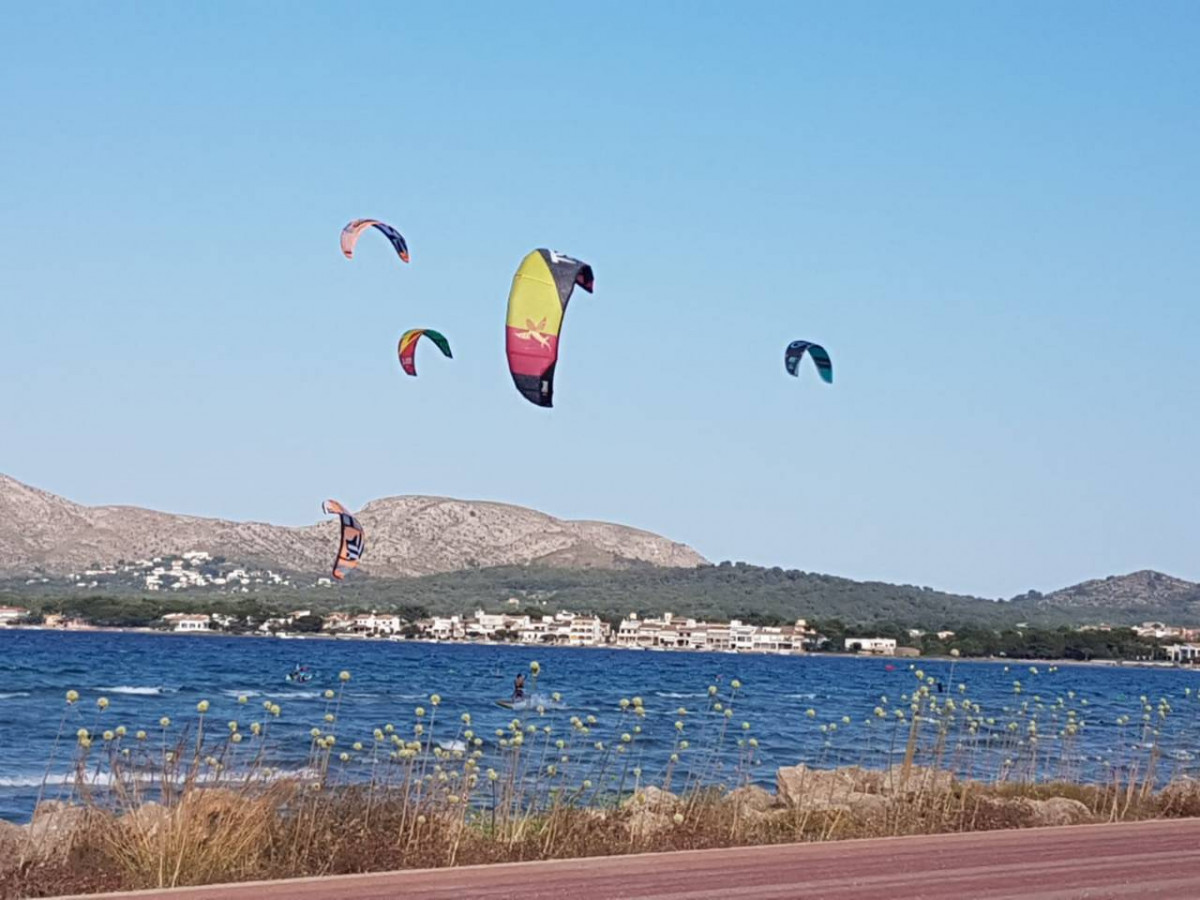 There are only 50 kilometers from North Alcudia to Palma on the South of the island and there is quite a good motorway, which has three lanes in each direction. On the way to Palma on the advice of my friend, I decided to stop in the mountain tourist town of Valldemossa located 15 kilometers to Palma at an altitude of 413 meters above sea level. The town is popular among tourists because of the cooler mountain climate and the medieval monastery, wherein 1939 Polish composer Frederic Chopin lived. I was in no hurry to leave absolutely charming narrow streets of Valldemossa and parks filled with restaurants and souvenir shops.
Despite the evening, it was difficult to get to Palma by motorway, and the main roads of the city were packed with cars. Maybe because of the evening of Football World Cup, but the traffic was so bad that just entering the city took us almost an hour, so I saw Palma out the window of the car not wanting to be late for my return plane to Menorca. Of all tourist attractions, I saw only a Gothic Cathedral built by famous Spain Emperor James II and the ancient Palace of the Kings of Majorca and now official receptions of the Spanish Royal family, which has a summer residence in Palma. I didn't see the house of the Royal family but had a short walk of the paved promenade that stretches along with the port and beaches. I also saw the Plaza de Espana which reminds me very much of the same in Barcelona. After dinner at an Argentinian fish restaurant that is popular with not only a local selection of seafood but with freshes made from tropical fruits, I hurried to the airport, which was huge for such a small island so you need to arrive there more than an hour prior to departure.
Comparing 2 Islands, I can say that they are absolutely different.
Mallorca is very international and very popular among tourists. Palma is a large and noisy city, the atmosphere and architecture remind me of the streets of Barcelona. It has a very large and beautiful port, where thousands of yachts parked and along the beaches they built lots of hotels. The West of the island covered from the sea by the mountain range, the height of the mountains reaches 1,400 meters. The North of the island known more for steady wind and natural beaches, and very popular among nature and water sports lovers.
Tourists visit Menorca less; most of them come to see Mahon and Ciutadella arriving here for 1 day on huge cruise liners. The foreigners, who have bought houses in Menorca, assimilated with the locals and learn or know Spanish. However, each island has its own language: in Mallorca is Mallorquin and in Menorca - Menorquin, which are similar to Catalan, everyone here, speaks pure Castilian Spanish.
All schools teach students in local languages and they also study advanced English and Spanish. That is why there are not foreign children in local schools on the Balearic Islands. There are few private day schools in Mallorca, where children have to live at home with their parents.
From the international schools in Mallorca, the tennis school of Rafael Nadal should be distinguished, where only children playing tennis are admitted. In the morning - sports training, in the afternoon - studying the international IB program.
There are language schools on all Islands, more in the popular with tourists Mallorca and Ibiza, while Menorca recently opened two new language schools, where, even in summer it is difficult for the school to collect a group. When I attended language school in Menorca in late June, there were 2 students, 2 teachers, 1 Intern, 1 admission officer, and a director for the whole school. It is difficult to imagine how with such a low demand the school is still not bankrupt, but it was cool to study individually, especially because I got a very academic teacher, who quickly understood my Spanish knowledge and gave me just the right material.
THE NORTH OF SPAIN
I can't tell much about Madrid because I was there only once for three day conference and walked out of the hotel for one afternoon. I remembered Madrid for very bad service. We ordered lunch and a jar of sangria, and when the food was ready, the waiter warned us that we have only 5 minutes and the restaurant closes for siesta, so he offered us to pay immediately. While at the tables around people were sitting as they had plenty of time, finishing their drinks and chatting noisily. We did not pay much attention to the warning the waiter and were not in the hurry with our late lunch, especially since we just got here and were tired of the heat.
Five minutes later the waiter began to gather chairs and tables and bring them inside the restaurant. Then he came up to us and silently picked up our table from which we barely had time to grab our drinks, our unfinished dinner left with the table. This unpleasant story is so ingrained into my memory that I remember neither the streets nor squares nor the Prado. I only remember that Madrid disliked me.
However, the North is much greener and more picturesque of all regions. I was particularly impressed with Salamanca, with its medieval buildings of the University that in the rays of the sunset seems to shine with gold. This effect creates from reflection of the yellow limestone used in the buildings. Salamanca is located at the foot of the Pyrenees Mountains and even in summer, it's much cooler than other cities in mainland Spain.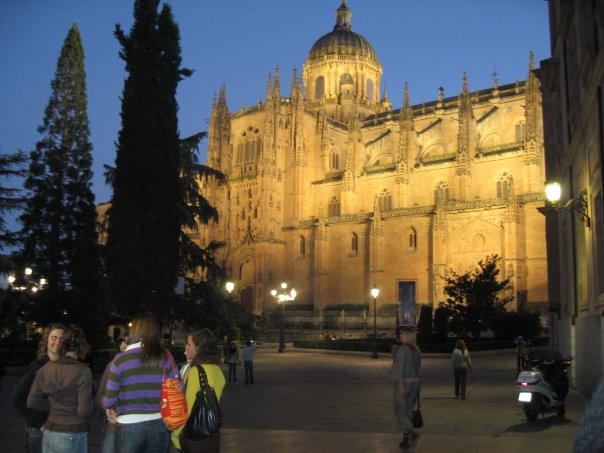 Both Madrid and Salamanca are very god places to study Spanish, especially if you are looking for long-term programs in the Castilian region. Also in the area of Madrid, there are several good international boarding schools with a long reputation for accepting international students, affordable prices, and excellent results for graduates. The most popular are: King's College – a British school near Madrid, offering A-level, and Toledo International School – an international school near Toledo offering the IB program in high school and English-Spanish program in middle school.
Important